Alpine Animal Hospital Doctors and Staff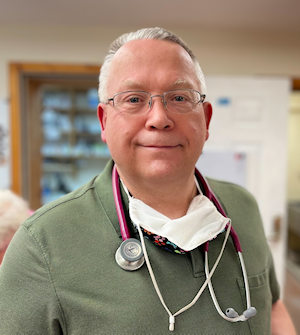 Carlton Van Horn, DVM – Founder
Dr. Van Horn graduated Murphy High School 1971 and went on to pursue Veterinary Medicine as his career path. He established Alpine Animal Hospital and has been practicing Veterinary Medicine in Murphy, NC since 1983.
Married to Patti, the Van Horns have 3 children who are young adults and pursuing their careers. Patti works alongside Doc as his Office Manager. Doc and Patti celebrated their 30th anniversary in 2015.
Education:
Associate of Science Degree Young Harris Jr. College 1973
B.A. Zoology UNC Chapel Hill 1975
Attended NCSU to complete Pre-veterinary studies
Doctor of Veterinary Medicine (DVM) Auburn University 1981
Community Involvement:
Past Board of Directors for MEAC (Mountain Emergency Animal Center)
Past Board of Directors – Valley River Humane Society
Past Member Cherokee County Board of Health (three terms).
Past-Chairman Cherokee County Board of Health
Past-President of Murphy Chapter of American Red Cross
Past-President of Murphy Little League Baseball
Past-President of Cherokee County Soccer League
Coached Little League Baseball
Coached Recreational Soccer
Past-Referee High School Soccer
Past-Referee High School Wrestling
"Women and cats will do as they please, and men and dogs should relax and get used to the idea." – Robert A. Heinlein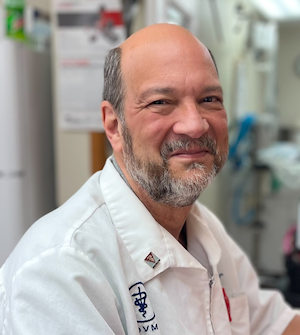 Grady Hester, DVM
Dr. Grady Hester became an associate veterinarian at Alpine Hospital in 2016. He hails from the Tidewater area of Virginia and completed his Doctorate of Veterinary Medicine (DVM) in 1986 at the Va.-Md. Regional College of Veterinary Medicine at Virginia Tech. Dr. Hester was first employed as an associate in a private practice in Durham, N.C where he met his wife Lu Ann. He later accepted a position as Senior Staff Veterinarian of the After Hours Small Animal Emergency Clinic in Raleigh, N.C., and while there developed advanced skills in emergency and trauma care. In 1993, Dr. Hester opened All Creatures Animal Clinic in Raleigh, NC.
From 2008 until 2010, Dr. Hester provided relief services (primarily surgical services) to numerous practices in western N.C. including Alpine Animal Hospital. In 2010, Dr. Hester accepted a position as a sworn federal Supervisory Veterinary Medical Officer for the United States Dept. of Agriculture and served in this position until 2015.
Dr. Hester comments that his career as a veterinarian has come full circle and he is excited to return to caring for family pets in a full service veterinary hospital.
Grady and Lu Ann currently reside in Andrews with their five dogs, four cats, two horses, and five koi.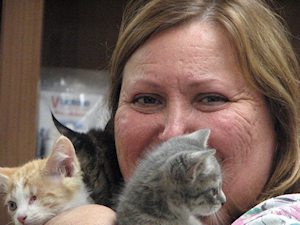 Patti Van Horn, RN – Office Manager
Married to Doc in 1985, Patti's nursing background serves the practice well as Alpine Animal Hospital's Office Manager for more than 25 years.
Patti's previous nursing duties include Murphy Medical Center, The Cherokee County Health Department, and the private practice of Dr. Mario Siegle. She is a graduate of Robbinsville High School, graduated the University of North Carolina – Asheville with a Bachelor of Arts in Psychology, and is a graduate of Tri County Community College's RN program.
Along with Doc and Patti's 3 children, the Van Horn's family includes their pet dogs Bam Bam, Tazi, Roxie, and pet cats Bob, Faffy, Pete, Squirt, and Little Bit.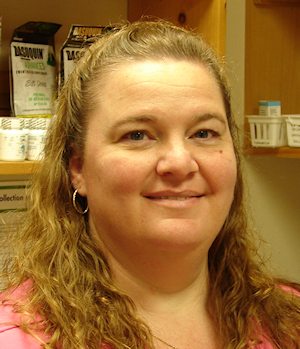 Michelle Dingman – Registered Veterinary Technician
Michelle is originally from Bradenton, Florida. She moved to Hayesville in 2005. Michelle has an Associates Degree in Veterinary Technology and is registered with the North Carolina Veterinary Medical Board.
Outside of work, Michelle is quite busy keeping up with her family. In addition to her husband and son, she also has 2 horses, 1 dog and 2 cats.
"Choose a job you love, and you will never have to work a day in your life."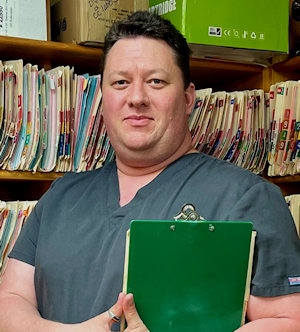 Scott Gunnels – Veterinary Technician
Scott is a graduate of Andrews High School. He has been associated with helping pets since 1999. He has been employed at a boarding kennel, veterinary office and the humane society. Scott has an after hour pet sitting business. He has 6 dogs and 2 cats. Scott enjoys going hiking with his dogs.
"You can always judge a person's character by the way they treat animals."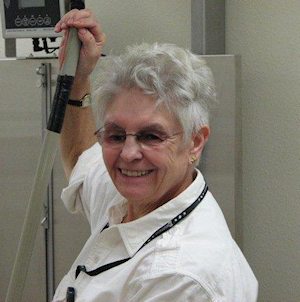 Betty Leining – Housekeeping
Betty has owned her professional cleaning business for more than 12 years. She has been taking care of the housekeeping duties here for so long that we consider her as part of the staff.
She has a 17 year old Quarter Horse mare named Reba, two dogs – Ginger, a Schnauzer puppy, and MeMe, a 4½ year old Wirehaired Terrier. Betty loves working in our office, riding Reba, and yard work.