Pet Related and Veterinary Links
Local Pet Grooming (Murphy, NC Area):

All Creatures Short & Tall – Murphy NC / Peachtree | 828-837-4390
Green Paws Grooming – Murphy NC  | 828-835-7297
Local Pet Grooming and Boarding Facilities (Murphy, NC Area):
Kadillac Kennels, LLC – Murphy, NC | 828-644-1122
Furry Friends – Murphy, NC | 828-837-8198
Loving Care Pet Grooming – Murphy, NC | 828-557-5898
Doggie Doos – Hayesville NC | 828-389-2222
Cat Boarding (Murphy, NC Area):
Cats Rule – Murphy, NC | 828-837-4746
Local Pet Sitters  (Murphy, NC Area):
Scott Gunnels – Murphy, NC | 828-361-3534
Kitty Kompanion – Murphy, NC | 828-557-4162
General Care:
ASPCA Animal Poison Control Center – Your best resource for any animal poison-related emergency, 24 hours a day, 365 days a year.
American Veterinary Medical Association Care for Pets – It's more fun than ever to learn about pets and the people who care for them!
North Carolina Veterinary Medical Association (NCVMA) – The NCVMA is a professional organization of veterinarians dedicated to compassionate animal care and quality medicine.
AVMA Animal Food Recall and Alert – This information is based on reports and alerts received from the U.S. Food and Drug Administration (FDA) and/or manufacturers
Pet Health 101 – Get the answers you need for your pet's health questions
HomeAgain® – Pet microchip experts helping lost pets find their way home.
VeterinaryPartner.com – Here to support your veterinarian and you in the care of your companion animals by providing reliable, up-to-date animal health information from the veterinarians and experts of the Veterinary Information Network (VIN), the world's first and largest online veterinary database and community.
Dogs
Dog Channel – The website for dog lovers
Cats
Cat Channel – The website for cat lovers
Nutrition
Financial
CareCredit® – The payment option for Healtcare Services for You and your Pet
Professional Pet Photography Services
Lara Solomon is an internationally recognized Los Angeles-based photographer. Her trademark straight-shooter approach is most authentic. "I don't feel like I capture anything in particular but rather a moment, and that is what is real to me," she says. See her photography at larapix.com
Pet and Animal Books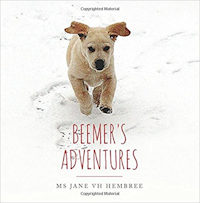 Doctor Van Horn's sister, Jane Hembree, it writing a series of children's' books. The first is Beemer's Adventures. "Beemer is a seven week old yellow lab puppy when he comes to live with his human family. Beemer is very excited to see his first snow and to meet his new friends, Baby the Lamb and Slow Poke the turtle. Beemer grows into a BIG brother for his friends. Come and join them as they have adventures together." You can purchase Beemer's Adventures by Jane Hembree at Amazon.com Here.